REST API to manipulate Microsoft Project files on any platform
Microsoft Project REST API to manipulate and transform MPP documents to Primavera, HTML, PDF, TXT, CSV, Excel, images and XML formats on any platform.
  Start Free Trial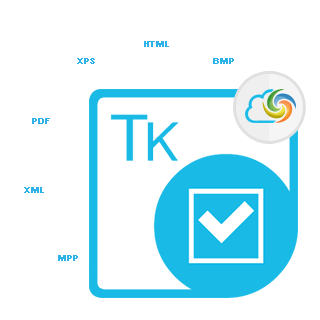 Aspose.Tasks for Cloud
Aspose.Tasks for Cloud is a REST API for manipulating and converting Microsoft Project documents hosted on cloud platforms. It allows you to work with all aspects of a Project document.
The API offers a wide range of Microsoft Project export options allowing developers to convert Microsoft Project documents (MPP) to PDF, HTML, BMP, XPS, TIFF, PNG, SVG, CSV, TXT, XLS, XLSX, Primavera XER and XML file formats.
Supported Platform
Aspose.Tasks for Cloud's platform independent document manipulation API is a true REST API that can be used with any language: .NET, Java, PHP, Ruby, Rails, Python and jQuery. You can use it with any platform — Web, Desktop, Mobile and Cloud. The API integrates with other cloud services to give you the flexibility you need when processing project documents.

Supported File Formats
Aspose.Tasks for Cloud transforms Microsoft Project file format (MPP) to HTML, BMP, XPS, TIFF, PDF, PNG, SVG, CSV, TXT, XLS, XLSX, Primavera XER and XML formats.
Microsoft Project: MPP, XML
Primavera: P6 XML, PM XER
Microsoft Excel: XLS, XLSX, SpreadsheetML
Fixed Layout: PDF, XPS
Images: JPEG, PNG, BMP, TIFF, SVG
Text: TXT, CSV
Web: HTML
Previous
Next
Advanced Project Management Cloud API Features
Convert Project documents to other formats including PDF, BMP, PNG, XPS, HTML, XLS, XLSX, XER and XML
Handle task links and task assignments
Work with Project extended attributes
Get Started with Document Processing REST API
It is easy to get started with Aspose.Tasks for Cloud and there is nothing to install. Simply create an account at Aspose Cloud and get your application information (app key and SID). Then go ahead and use the Aspose.Tasks for Cloud REST API with any language, on any platform.
Manage Project Tasks Data
Aspose.Tasks for Cloud API can read information associated with Project task data such as task name, ID, start date, finish date, scheduling and other parameters. The API also facilitates reading task links and task assignment information from a project data file.
Handle Project Resource Data
Using Aspose.Tasks for Cloud API - information about a project's resources can be retrieved using the resource ID or name. The API can also retrieve or delete resource assignment data for resources that have been assigned to tasks.
Manipulate Project Calendar Information
The Aspose.Tasks for Cloud REST API helps you manage project calendar information with simple API calls. It is possible to read not only project calendar information but it can also add and retrieve calendar exceptions. The API also supports adding a new calendar and deleting an existing calendar from the hosted Project data file.
Manage A Project's Extended Attributes
Extended attributes can be assigned values for each task or resource within a project file. Aspose.Tasks for Cloud provides the capability to read and delete extended attribute information from a Project document hosted in the cloud.
Use With Any Language And Work With Third Party Storages
Aspose.Tasks for Cloud can be used with any language or platform which supports HTTP requests and responses. You can also use Aspose.Pdf for Cloud with many third party storages including Amazon S3, Google Cloud, Google Drive and DropBox.
Microsoft Project Automation - Not Needed
Aspose.Tasks for Cloud API is built using managed code that do never need Microsoft Office or Microsoft Project to be installed on the machine for working with MS Project files. It is a perfect Microsoft Project automation alternative in terms of supported features, security, stability, scalability, speed and price.
Support and Learning Resources
Why Aspose.Tasks for Cloud?
Aspose.Tasks offer individual Project APIs for other popular development environments as listed below: